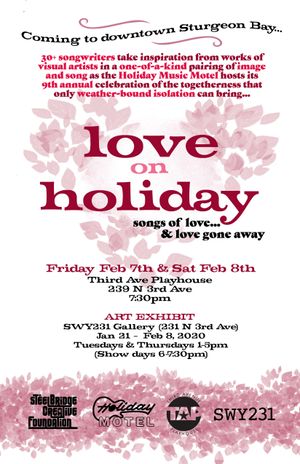 Love On Holiday 2020!!!
Feb 7 & 8 at Third Avenue Playhouse 7:30pm
(Doors open to lobby at 6:30. Door to theater at 7pm)
To buy advance tickets, click HERE!
Artworks for this year's event will be on display at SWY231 Gallery (231 N 3rd Ave directly next door to TAP) Tuesdays and Thursdays Jan 28 - Feb 8 from 1-5pm and on show nights from 6-7:30pm. Admission for this pop-up art exhibit is free and open to the public.
Examining the language used in other art forms helps us to expand the language which we use within our own. The Love On Holiday collaboration between musicians and visual artists reaches to do just that.
While many parallels can be drawn between the two art forms, there are obvious undeniable differences. Music has a broad palette to work from through words and sounds and even through medium and distribution; there is more of an immediacy to its access, translation and understanding, while visual art--outside from the obvious--sits still and quiet, telepathically transmitting purpose, history, emotion, intentions. The visual artist is speaking to us through what we are viewing but all too often we cannot understand. It is that quiet, nagging, often unsettling wonderment that changes our own thinking and perception, that alters our synapses and thought processes and remains with us long after we leave the space of a work that moved us.
It is emotion manifested in the visual.
Perhaps this is how the visual artists "sing."
The artists generously loaning their work for this year's songwriting collaborative are bravely allowing their works to be mined and explored for inspiration, story and meaning; to have it interpreted and translated through the immediacy of the art of songcraft performed before the public within days, if not hours, of being written.
Unavoidably influenced by the songwriters' own history and experiences, the collaboration between these two worlds will, as in years past, yield music of a depth and power that only this unique cross-collaboration can inspire.
Songwriters for Love On Holiday 2020!
Adam Flaig
Alex Wilson
Andrea Wittgens
Anna Sacks
Austin Raddatz
Barbara Stephan
Barrett Tasky
Ben Spatol
Bruce Butkovich
Carley Baer
Cathy Grier
Claire Kelly
Eric McFadden
Feathered Mason
Genevieve Heyward
Gervis Myles
Granville Mullings
Greg Roteik
James Hall
Jimm McIver
Josh Harty
Kate Vargas
Leilani Diaz
Lily DeTaeye
Liv Mueller
Make Keene
Michael McKinnon
Mike Bleck
Sam Lyons
Selorm Kploanyi
Steve Smith
Victoria Vox
Vincent Gates
Wyatt Glave
Visual Artists!
Bobby Opper
Claire Tellstrom
Eric Tauscher
Fred Stonehouse
Heather Peterman
Jared Nellis
Kathryn Shepard-Utzinger
Katie Frank
Kole Mallien
Meghan Lionel Murphy
Mikaela Brenner
Mike Fredrickson
Mira Miyamoto
Phil Lyons
Rae Senarighi
Stephen Wolter
Steve Bowles
Tom Jordan
Troy Therrien