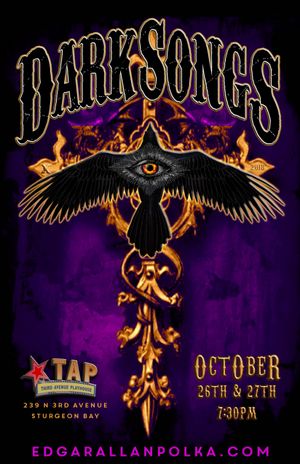 Dark Songs 2018!!
CLICK HERE TO PURCHASE WEEKEND PASSES
An all-star cast of 30+ songwriters present freshly written originals in the theme of Halloween, Day of The Dead and the darker sides of life. 
The Holiday Music Motel's notorious week-long collaborative songwriting marathons start with a bottle spin,
and culminate in visually and sonically stunning, darkly humorous weekend showcases.
"Music so fresh, it's frightening!" 

Dark Songs from The Holiday Music Motel returns to Third Avenue Playhouse 
for 2 shows on Friday & Saturday, October 26 and 27!
Both shows start at 7:30
Confirmed participants as of 9/24/2018
Adam Mackintosh
Andrea Wittgens
Anna Jo
Barrett Tasky
Bruce Butkovich
Carley Baer
Cathy Grier
Danielle French
Eric McFadden
Feathered Mason
Genevieve Heyward
Greg Roteik
James Hall
Jimm McIver
Josh Harty
Kate Vargas
Leilani Diaz
Liam Hall
Liv Mueller
Matt Blake
Mike Bleck
melaniejane
Morgan Rae
Nicholas Raymond
pat mAcdonald
Sam Lyons
Shannon Brackett
Stephen Cooper
Steve Hamilton
Sugar Ransom
Tarl Knight
Tae
Teve Mith
Victoria Vox
Vincent Gates
To stay on top of the latest info, please join the Facebook event here: https://www.facebook.com/events/407874413077797