One year ago today, the South Bend Tribune ran a piece on two of the Holiday Motel's interesting owners,
pat mAcdonald
and
Bruce Reaves
(of Sturgeon Bay, WI, and South Bend, IN, respectively), and their unlikely friendship, which began in 2006 when mAcdonald answered a fan letter from Reaves.  It is a friendship that has since evolved into an exciting business partnership. 
After becoming acquainted, mAcdonald invited Reaves, a musician himself, to participate in Sturgeon Bay's
Steel Bridge Songfest,
an annual music festival begun by mAcdonald and his sister (Christie Weber of the
Wisconsin Trust for Historic Preservation
) in the effort to save the then-threatened historic Michigan Street Bridge.  mAcdonald led a group of songwriters in a days-long collaboration workshop in an appropriately historic setting: Door County's first-ever motel, situated at the approach to the Michigan Street Bridge, hosted the first Construction Zone, as the pre-festival writing workshop came to be known.  That motel was The Holiday, when and the musicians', preservationists', and community members' rally to save the bridge was a success, mAcdonald, Reaves, and a group of other musicians and music-enthusiasts involved in Steel Bridge (including
Jackson Browne
,
Anna Sacks
, and more) joined together to purchase it.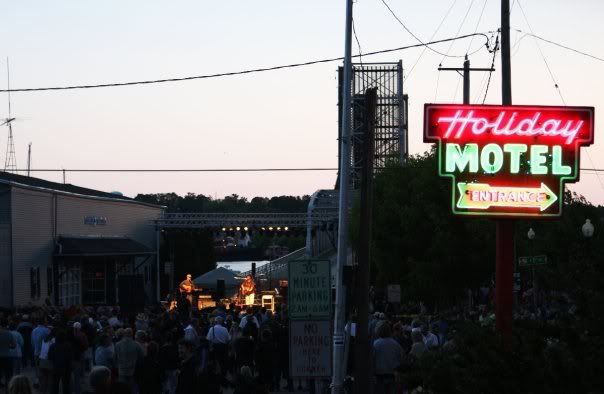 A crowd gathers between the Michigan Street Bridge and the Holiday Motel for a performance presented by 2010's Steel Bridge Songfest.
Since the group took ownership, they have given the motel a loving "retrovation" - a chic mid-century-inspired renovation to offer guests contemporary comfort and convenience with retro charm - and have even installed a recording studio in what was once the motel's managers' quarters, going so far as to hardwire each gust room for compatibility to serve as remote stuidos that can be plugged into the main control room during the
annual songwriters' workshops
the Holiday now hosts.  Over 600 songs have been recorded in the studio at the Holiday Motel, which is manned by Grammy-nominated sound engineer
Billy Triplett
. 
This unique family of artists continues to innovate ways to grow community through music, a common ideal that contributed to the devleopment of a strong friendship between pat mAcdonald and Bruce Reaves, whose musical collaborations extend beyond the workshops both particpate in at the Holiday Motel.  What have they been up to? 
That and more in this
feature on the duo
by Andrew Huges.