Clean, Comfortable, Convenient, and Charming
Thank you for your interest in the Holiday Motel, the most unique place to stay and play in Door County!  Built in 1952, the Holiday is Door's first-ever motel.  Renovated in 2008 using environmentally-friendly building materials and practices, we offer our guests a clean, comfortable place to stay with retro charm and modern amenities.  Steps from the bay and the city's finest shops, restaurants, and night life, the Holiday is the place to stay in the heart of historic downtown Sturgeon Bay.  We take great pride in going the extra mile for our guests, and our competitive rates, fantastic location, delicious complementary continental breakfast, free parking, and picnic and campfire area make the Holiday one of the peninsula's very best values.
Our attention to detail ensures that your room is always cleaned to the highest of industry standards.  Brand new carpeting, wildly comfortable mattresses, plush linens, luxurious hypoallergenic polyfill and down pillows, lounge chairs, over 70 premium cable channels on flat-screen televisions, full four-piece bathrooms, and retro print blackout drapes over windows that actually open to let in sunlight and bay breezes lend our rooms unbeatable comfort.  They're convenient, too, with refrigerator/freezer combos in each room, free local calls from your room phone, radio alarm clocks, writing desks, visitor guides, and, in certain rooms, coffee pots and microwaves.  But cleanliness, comfort, and convenience only go so far without charm, so our friendly and sunny motel features original 1950s furniture and tiling, paintings and glass fixtures donated by local artists, great music playing in our public spaces, a cozy lobby where guests can pass the time with one of the many books, magazines, or instruments we have on hand, and a quaint little diner with seating and a coffee pot, microwave, toaster, refrigerator/freezer, and dishes and silverware all available for guest use 24/7.   
 
A Commitment to Growing Community Through Art
 Aside from our service as Sturgeon Bay's premier motel, the Holiday is also an integral fixture of the local music scene.  From our weekly open mic to our house concerts and songwriters' retreats, the Holiday often plays host to live performances by incredibly talented artists from around the world.  Musicians often stay in our guest rooms while writing and recording music in our on-site recording studio with the Holiday's in-house Grammy-nominated sound engineer.  All in all, thousands of songs have been written, recorded, and mastered at the Holiday Motel.  The works of local fine artists are showcased on our walls, and our events utilize the arts as a medium by which we are able to connect visitors to and members of our community.  
 The Holiday Motel was the first motel in Door County.  Built in the Cubist Modern (or Modern International) design, it opened its doors on Saturday, May 31, 1952.  The motel was designed and owned by William Paul, owner of the local supper club the Nautical Inn, and his business partner Myron Krueger.  According to newspaper reports of the time, the two emphasized the "modern" detail and amenities when listing such items as a
ventilated phone booth just for the business traveler's calling convenience
, the
 fire-proof and chip-proof Simmons furnishings
, the
glass-block windows
,
photo-mirrors
,
tile bathrooms
,
theatre-lit hallways and stairs
, and
white stucco and cement block construction
- the newest methods of the day.  
The builder used the post Motor Court style popular at a time in American travel history when guest room views onto the on-site private parking was a major attraction to travelers.  In the early part of the twentieth century, there were few choices for travelers - most stayed at camp ground, cottage courts, or tourist homes.  Business was good, and a year later, the Holiday Diner was added to serve a full breakfast menu.  
Interestingly, the Holiday Inn chain (unaffiliated with the Holiday Motel) was launched only three months
later
in Memphis with the promise of properties that were standardized, clean, predictable, family-friendly, and readily accessible to road travelers.  Named jokingly by its architect in reference to the popular Bing Crosby movie, there were 50 Holiday Inns across the country by 1958.  
OUR ICONIC NEON SIGN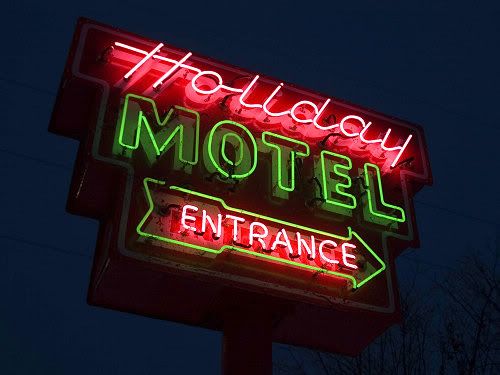 Our sign is the motel's original sign.  Though the Sturgeon Bay's sign code typically does not allow neon, our sign was grandfathered in for its historic relevance.  The metal box neon sign was perfected during the 1950s and became the standard in roadside business advertising until the 1960s.  This period of dynamic, roadside flamboyance mirrored the exuberance of the postwar era.  Metal box signs were constructed with brightly-colored porcelain-enameled panels trimmed in neon tubing and often animated with moving parts for vivid, hard to ignore displays day or night.